I think I'm ready. I tried on my crown and it looks fine, if I do say so myself. I think I'm going to go back and get a whole bunch of them, you know, just for every day. I don't know why we don't wear tiaras more often, really.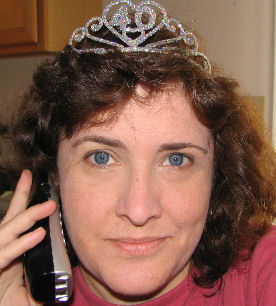 I'm on the phone in that picture. Sorry about that, but it does make it look more like I'm just wearing the tiara around the house going about my normal business, doesn't it?
I was thinking I should do a whole Courtney Love bad makeup prom-from-hell thing, but I don't want to scare off all the kids in Junior's class.