For lack of real content, I'll provide you with some filler material today. I know you want to know what's on the old iPod for your "Be Like Jody Day" day. I'll break it down into to categories: What is physically playing right now, and what shows up as the top 5 most played songs.
Now Playing: Death Cab for Cutie's CD "Plans."
Top Five Most Played: Oh crap, I can't tell which ones are the top five. My "most played" playlist has 25 items in it and I think it's sorted by date added, not by number of plays. I'll have to look in iTunes when I get home to see the exact number of plays.
Also, here is a picture I "painted" using the oil brush tool in Paint Shop Pro. I am in artiste mode, apparently.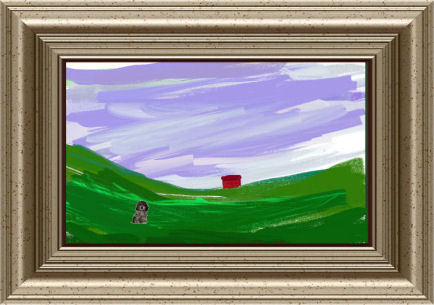 Lastly, to add to the list of items that I like that may be discontinued add L'Oreal's Airwear Concealer. I can't find it in my normal haunts, and it didn't look like CVS had an empty space where it would have been. Grrr.