I wish I'd had my camera this morning on the drive in to work. There were two places that I wanted to stop and take a picture. One was of this house with about 15-20 wild turkeys in the front yard. (I think they were wild turkeys. Coulda been turkey buzzards, I suppose. I was going by at a pretty good clip, so I couldn't stare into their beady little eyes to try to determine what they were.)
The other was of this really huge, nicely shaped maple tree. All green, except for this little clump of maybe 5 or 6 leaves that had turned red. It was just so funny, seeing a big green tree with this spot of red. You know by Monday, when I'm driving by again, there will be more than that one clump. But it looked great and I'm mad at myself for not having the camera. Not that I have a lot of free time in the morning to just pull off the road and start snapping pictures.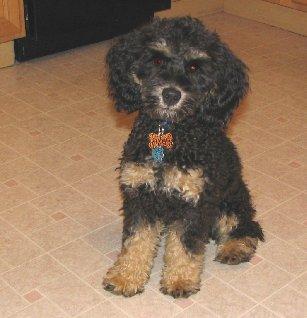 Oh, and to celebrate Friday, here's a recent picture of Phantom. He gets his jingle bells removed in a week and a half…don't tell him, though, we want it to be a surprise.