Okay, I think I'm going to have to use this one next year because it's so late in the season that it would cost me my life savings to put a rush order on creating and shipping me custom cards made with the following photo: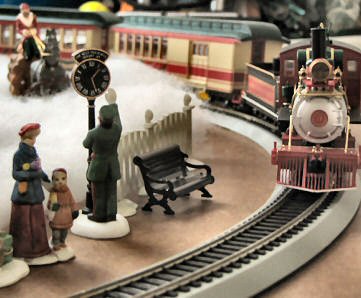 I took that picture the other day. It's my new train set, going around my Dept 56 village. The train station I want now is of course retired, but I did find a set of three railroad figures. That's one of them there, adjusting the time of the next expected train.
I thought this picture came out great, and wanted to make a Christmas card out of it. Of course, you're supposed to use pictures of your kids on your Christmas cards, but the Dept 56 village was so much more photogenic than a kid who doesn't want to sit still and have his picture taken. *sigh*
So lets pretend that this is your holiday card from me. I'd add some crappy background music, but I hate sites like that. Ho Ho Ho!