I don't know that my family ever did the same thing every year on labor day. I know a lot of people use it to get in one last beach day, or attend a fall fair. Today we were pretty low key – ran an errand this morning, then had lunch at Barber's Crossing (single boiled lobster, 10.95, twins only 15.95. And they are GOOOOOOD) followed up with a round of mini-golf. Junior loves his mini golf. I wanted to go to the one at the Whalom driving range, which is unbelievably well-kept, and the price isn't outrageous. Junior wanted to go to the one at Mason's Bowling alley. Now I grew up at that course, mostly because it was within walking distance of my house. So I know it pretty well. I also know they don't put much if any money into upkeep. I took a photo that kind of captures the feel of the place.
I think they owners are between a rock and a hard place (sort of like Whalom Park was right before it went out of business)…they need to put a lot of money into fixing it up, to bring in lots of new business. Because they aren't getting any business, they don't have any money to put into fixing it up. It's one of those deals that the only way it's going to be improved is if a new owner flush with cash takes over. I can't see the current owners doing on overhaul, not when some of the holes are EXACTLY the same as they were 20 years ago when I was a regular.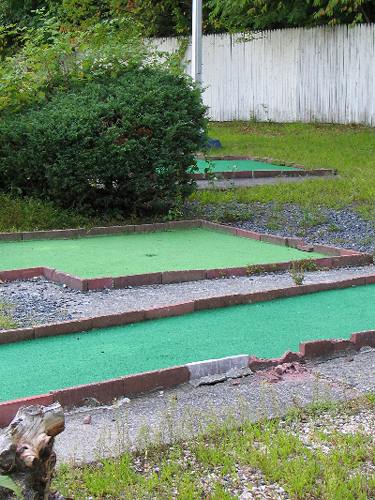 So follow that up with some ice cream, and I think we're just going to have hot dogs for dinner because that's a Labor Day food. And with that, we can effectively kiss summer 2004 goodbye.